Electron Crystallography. A Report.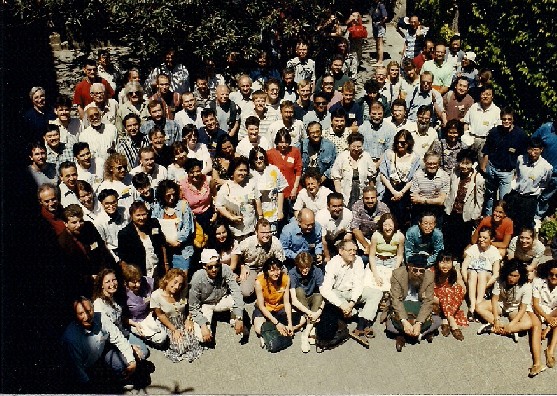 22 May to 2 June 1997
the 26th crystallographic course at the "E. Majorana" Centre, Erice, Italy
A NATO Advanced Study Institute
and a EUROCONFERENCE
Directors : S. Hovmoller and X.D. Zou, Stockholm and D. Dorset, Buffalo
This course has been run in parallel with the 25th, "Direct Methods for Solving Macromolecular Structures"; and few joint sessions have been held.
22 "invited speakers" and 83 "students" from 25 countries attended 43 formal lectures, 18 hours of lab sessions, 4 hours poster session, and two hours of special topics
The following speakers have contributed : G. Bricogne, Cambridge; Fan Hai-fu, Bejing; J. R. Fryer, Glasgow; C. Giacovazzo, Bari; C. Gilmore, Glasgow; J K Gjonnes, Oslo; P. Holzenburg, Manchester; R. Kilaas, Berkeley; Li Fang-hua, Bejing; A L Mackay, London; S V Meille, Milan; M. Mellini, Siena; G. M. Sheldrick, Goettingen; H. Schenk, Amsterdam; M. Tanaka, Sendai; I. Voigt-Martin, Mainz; H. Zandbergen, Nijmegen; V. Klechkovskaya & B. B. Zvyagin, Moscow
Topics have included Crystallography and Microscopy Theory; Data Collection, Quantification and Processing; Construction and Verification of a Structure Model; Applications in Mineralogy and Inorganic Chemistry; Modulated Structures and Quasicrystals; Lipids and Liquid Crystals; Aromatics; Proteins.
The main purpose was to teach participants the theory and practical principles of Electron Crystallography, i.e. the determination of structures at atomic level from extremely small samples by electron microscopy and electron diffraction. Recent research results have been presented and discussed to demonstrate the methods taught in the course and practised in the tutorials. Discussions on applications ranged from studying membrane proteins to characterizing polymers, superconductors, alloys.
The meeting just missed the recently late Boris K. Vainshtein and the book to be published by Kluwer as well as the event itself were dedicated to him. During the closing cerimony a symbolic Vainshtein Award was given to Boris Zvyagin, as his best colleague and friend during the long standing and world-recognized research on Electron Crystallography
.
---
Posted on 11 Dec 1994, updated on 26 June 1995, 30 Jan 1996, 4 July 1996, reported on 22 June 1997

by Lodovico Riva di Sanseverino

email : riva@geomin.unibo.it ; fax +39 051 243336